Relieve Chronic Jaw Pain With TMJ Treatment in Metairie
Your TMJ (temporomandibular joints) connect your jaw to your skull. So you use them often, for activities that involve opening and closing your mouth. If that simple action has become painful, you may have a TMJ disorder (TMD). If your TMJ become inflamed or irritated, it can cause pain that makes it difficult to eat or sleep. Fortunately, our TMJ treatment in Metairie will:
Dr. May on TMJ Treatments and Teeth Grinding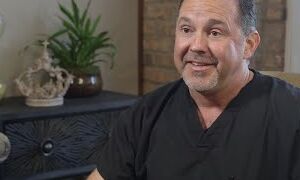 Read Transcript
A lot of people come into my practice and have chronic jaw pain of some kind, what the public refers to as TMJ problems. "I've got something wrong with my TMJ. It hurts when I chew. I wake up with headaches." It's multiple symptoms that they come to your office with that they're looking for help, and mainly they're in pain, and they need help. Some people have a high pain threshold, and some people are just in excruciating pain to even chew something small. I've been lucky enough in my career to have spent many, many hours in continuing education to understand and learn the dynamics of how the jaw works and how we chew and how our TMJ works so that when patients are experiencing pain, I can offer them a solution.
There's many, many, many different treatment modalities that we can do with a patient, but typically to get through the TMJ pains and symptoms that they're experiencing does take a little bit of time. I've done everything from just a bite splint that someone wears at night to relieve their grinding issues to doing full occlusal adjustments, making sure that all their teeth are fitting together correctly, all the way to more extensive stuff where they've lost space between their teeth from constant grinding through the years and we have to do a 24-hour bite splint that they wear all the time on their lower teeth, to restore them into a different bite position to relieve their TMJ pain. We provide all of those services. It can get extensive, but we typically get great results.
Allow you to use your jaw without pain
Keep discomfort from spreading to your neck, shoulders, and elsewhere
Provide relief from related symptoms like chronic migraines and earaches
Stop your teeth grinding habit, which can contribute to TMJ pain
If you suspect you could have a TMD, call 504-291-0042.
You May Need Several Kinds of Treatment for TMJ Pain
Many dentists can provide you with a nightguard, a custom-made mouthguard that prevents you from grinding your teeth (bruxism) while you sleep. Nightguards can relieve TMJ pain, which is why we offer them. However, you may need additional treatment to end your TMD symptoms.
Dr. Gregg May also offers:
Instructions on Relaxation Exercises – Stress is often present with TMJ disorders, so exercises that relieve tension in your jaw can help ease pain.
Muscle Relaxants – Muscle relaxants can be helpful for more severe cases of TMJ disorder.
Disclusion Time Reduction (DTR) – We can use tools that reveal how your teeth fit together while biting and chewing, showing the forces and balance used. We can make any needed adjustments by removing small amounts of enamel from teeth and/or adding composite or other materials. The result will be a more balanced bite.
Don't Ignore the Signs of TMJ Disorder
A painful or tender jaw is not the only symptom of a TMD. Call us right away if you're experiencing any of these other symptoms:
Trouble chewing
Frequent, unexplained headaches
Earaches
Facial swelling
Lockjaw
For TMJ treatment in Metairie, LA, call 504-291-0042. Be sure to schedule your next regular checkup as well.