Protect Your Smile With Gum Disease Treatment in Metairie
You can't have a healthy mouth if you have unhealthy gums. However, gum infections are more common than many people realize. Fortunately, you can take care of it with Metairie gum disease treatment at our friendly dental office.
Dr. May on Non Surgical Gum Treatment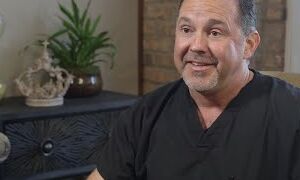 Read Transcript
In my office we do a lot of focus on the oral cavity as a whole. Most people come into a dental office and they're very concerned about whatever problem they're having and issue they're having. And most of that generally comes from either not having gone to dental visits frequently enough or not being educated about their oral health.
A statement that I'd say to a lot of people is, "Your gums are the frame to your smile." Everybody loves a picture, but you don't put a beautiful picture that you spent a lot of money on in a $5 frame. And the other misnomer that happens a lot is when you cut your fingernails, your hands don't bleed. When you brush your teeth, your gums should not bleed. If you have bleeding gums, you have an issue that needs to be addressed because we now know, with newer technology and research, that your gum is connected to your bloodstream, which is connected to your heart and your overall health.
And we find in some of our senior population that they've had open heart surgery, they've had things … or they're diabetics. Having great oral health and nice gums is essential to their overall health and well-being.
This treatment can:
Improve your oral health
Save your teeth
Give you more confidence in your smile
End pain and soreness
At Metairie Dental Studio, we have some important tools and techniques to get your smile back in shape. Call 504-291-0042 to schedule an appointment with us. Relax with a blanket and headphones while we work!
Fight Gum Infection With Our Two-Part Treatment
Treating gum disease is a standard part of our general dentistry. Our focus is on non-surgical gum disease treatment, which is simpler and helps you restore your oral health sooner. Scaling and root planing is a common procedure that works on many gum infections. You can think of this as a deeper cleaning than you get during a routine dental checkup.
Scaling is the first step. A member of our team will remove plaque and tartar buildup below the gumline and on the roots of your teeth. Then, we will smooth out the surface of your teeth through root planing. This is important for two reasons. Bacteria have a harder time attaching to the smooth surface, which also makes it easier for your gums to reattach to your teeth.
To keep you comfortable during this procedure, you have the option of local anesthetic and two kinds of dental sedation. Whether you choose inhaled sedation or oral sedation, you can trust that we have ways to ease your dental anxiety.
Don't Risk Losing Your Smile to Gum Disease
Nearly half of American adults 30 and older have periodontal disease, or gum disease. Your risk of gum infections increases as you get older. Gum disease may also leave you more likely to experience heart and cardiovascular problems.
Gum disease also is the leading cause of tooth loss in the U.S. In other words, you need to do what you can to prevent periodontal problems, such as routine dental cleanings and exams.
If you do see the signs of a gum infection – such as red, swollen, or bleeding gums – make plans to visit Metairie Dental Studio right away. Call 504-291-0042 to take advantage of our gum disease treatment in Metairie.