Rejuvenate Your Smile With Dental Crowns & Bridges in Metairie
When you have a problem with your tooth, you should do something about it. Often your best options are Metairie dental crowns and bridges. These restorations:
Dr. May on Crowns and Bridge Work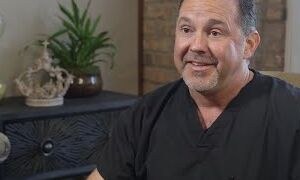 Read Transcript
There are many patients that come into the practice that have a missing tooth. Obviously, my first choice to replace a missing tooth is generally going to be placing an implant. But occasionally, there is such extensive bone loss that an implant isn't a good option. Another option that we can utilize to replace a missing tooth is actually bridgework. Bridgework is where you have crowns that are connected, and it gives you another tooth where the missing tooth was. It's an excellent option. They're beautiful. They do not come in and out of your mouth. It's a fixed something that is there forever. They're meant to last many, many, many years. It's an investment, but it's another option to fix a missing tooth.
Repair broken, cracked, and decayed teeth
Replace missing teeth
Restore your ability to bite and chew
Renew your confidence in your smile
You can feel like yourself again by calling 504-291-0042. Schedule an appointment with our team at Metairie Dental Studio. Ask about our membership club that will give you big savings on your treatment.
Choose Teeth Replacements & Restorations You Can Trust
Crowns and bridges have been the foundation of restorative dentistry for thousands of years. The materials used to make them have changed, and today they are better than ever. Our porcelain crowns allow you to eat what you want – and they look natural.
If you should need to repair or replace a tooth, we may recommend one of the following options:
Crowns – Crowns can be used to repair teeth that are damaged, decayed, worn down, or misshapen.
Inlays – An inlay is a partial crown that is used to repair a tooth that has been damaged inside the cusps.
Onlays – An onlay is a partial crown that repairs damage to outer edges of a tooth.
Bridges – Dental bridges are made by fusing crowns together to replace one or more missing teeth.
If you are missing a tooth or teeth, you should ask about dental implants as well. Implants replace the roots of missing teeth. They can support crowns and bridges and make your dental restorations stronger.
Enjoy a Complete, Healthy Smile
Having a broken tooth, a decayed tooth, or missing teeth isn't just bad for your oral health. It also can affect your self-confidence in social and professional settings. By taking steps to correct your smile, you can restore your oral health along with your confidence.
Our team at Metairie Dental Studio wants to see you smile again. Getting dental crowns and bridges in Metairie, LA can make that possible. Rebuild more than your smile by calling 504-291-0042. Be sure to take advantage of a warm blanket and headphones during your procedure.