Transform Your Smile With Cosmetic Dentistry in Metairie
Smiling signals your brain to produce chemicals that lower stress and make you feel better. Don't miss out on this positive reaction because you don't like how your smile looks. Improve your smile – and your mood – with Metairie cosmetic dentistry.
Dr. May on Cosmetic Dentistry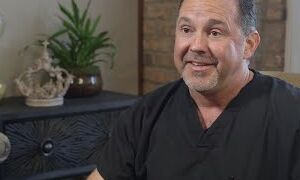 Read Transcript
I have extensive, extensive smile makeover, full-mouth restoration trauma cases. Things like that, that I'm able to offer my patients. They are truly, truly life changing. Most people do not understand a lot of the new things in dentistry, the new technology that exists in dentistry for us to do these very, very complex types of different dental restorations. There are so many dental procedures that are complex dental procedures that exist because of newer technologies and newer things that are available to us now, that didn't exist years ago.
Dentistry has evolved and changed in such tremendous strides over the last few years. It has been an amazing profession to watch. We can do things easier, faster, better, and with much better results and a lot less pain, whether it be postoperative pain after a procedure or things like doing dentures that are immediately done on top of implants, where you don't have to walk around with missing teeth. You get to leave with a beautiful smile.
Our cosmetic dental treatments will:
Increase your confidence, both socially and professionally
Make you happier with how you look and more willing to share your smile
Give you a younger appearance
Improve your oral function
We offer procedures to straighten crooked teeth, brighten dingy teeth, and cover smile flaws like chips and stains. You can even combine multiple treatments for a complete smile makeover. To schedule a consultation with cosmetic dentist Dr. May, call Metairie Dental Studio at 504-291-0042.
Choose From Several Orthodontics Options
Every smile is different, so we provide more than one orthodontic treatment. We offer two kinds of orthodontic aligners, both of which straighten teeth without metal wires and brackets. You can choose from two popular brands: Invisalign or ClearCorrect. Our dentist will help you determine which option is best for your smile.
To straighten the teeth that show when you smile, you can get Six Month Smiles. Because they focus on relatively few teeth, these braces work in an average of just six months. Thanks to their clear brackets and tooth-colored wires, many people won't even notice them.
Hide Your Smile Flaws
If you have flaws like chips or stains, you have multiple options to transform your smile:
Dental Veneers – Applied to the front surface of your smile, veneers can change the size or shape of teeth and cover imperfections such as gaps, chips, and cracks. We offer porcelain veneers and composite veneers.
Tooth Bonding – Dr. May can apply layers of tooth-colored composite to teeth to cover stains, chips, and other minor flaws in this affordable treatment. Unlike many other treatments, bonding is completely reversible.
Teeth Whitening – We offer whitening treatments in our office or ones you can use at home. Both use custom-made whitening trays and professional-strength gel.
Teeth Contouring – Using a laser, Dr. May can quickly and easily correct minor shape issues such as pointy canines.
Get Great-Looking Gums
Whether you have too much gum tissue or not enough, we can give you better-looking gums. If your smile is overly "gummy," we can painlessly remove excess tissue with a laser. Your smile will have a better balance between teeth and gums.
If your gums have receded, creating sensitivity and an unhealthy appearance, Dr. May can restore your gums' health and appearance with an innovative procedure called Chao Pinhole® Surgical Technique. Unlike a gum graft, no cutting or stitches are involved. If you're not a candidate for this gum recession treatment, you can get a gum graft. If necessary, we can also use a bone graft to help restore your mouth's natural contours.
To talk to us about Metairie cosmetic dentistry, call 504-291-0042 today.