Attract Second Looks With Dental Veneers in Metairie
You want a beautiful smile, and you can have it. Our Metairie dental veneers have helped many of our patients. You too can have:
Dr. May on Dental Veneers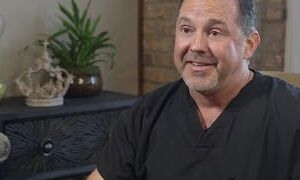 Read Transcript
A lot of times in my practice, I'll have a patient come in with a single chipped tooth that's not too extensive, or severely discolored teeth, whether it be from tetracycline stains as a kid or some other discoloration of some type that they've developed through the years. A dental veneer is a wonderful option. It is a very conservative option to have a tooth fixed to increase its cosmetic appeal. And we do lots of dental veneers. I pride myself greatly because I work with one of the best labs in the country to produce our dental veneers. And they're very conservative. They're very easy, but they have a dramatic effect on people's appearance.
Confidence in your smile
Teeth that look straight
A bright, white smile
Teeth that no longer look broken, chipped, or worn-down
Veneers are one of our most popular cosmetic services at Metairie Dental Studio. To understand why, call 504-291-0042 to schedule a consultation. Be sure to ask about our sedation options if you're nervous about your treatment.
Give Your Smile an Upgrade With Veneers
Veneers are one of the easiest ways to change your smile. We offer two options if you are interested in this service:
Ceramic veneers are made with durable porcelain that can last for decades. By removing a thin layer of enamel, we create space for your custom-designed veneers to fit your teeth.
Composite veneers are made with a resin that often can be applied without removing enamel. This can help you get your veneers in fewer visits, although these typically don't last as long as porcelain veneers.
Veneers offer a lot of versatility as well. You can get veneers for one or two teeth or a full set to change the appearance of your entire smile. They can be a stand-alone treatment or part of a complete smile makeover.
Stop Wishing for Nicer Teeth & Make a Change
One of our favorite things is seeing our patients smile. That's especially true when we've seen the emotional changes that can happen. Someone who once felt like they had to hide their teeth can gain the confidence to share their smile with the world. With the right treatment, you can feel great about meeting someone new, applying for a job you want, or just posting a selfie to social media.
To see the difference in your smile, ask us how you can get dental veneers in Metairie. Call 504-291-0042 today to make your appointment at Metairie Dental Studio. Treatment usually takes just two visits!