Get the Best Dental Care in Metairie, LA
Giving you the best dental care in Metairie, LA is a bit like making gumbo. We give you all the basic ingredients, from comprehensive services to multiple payment options. Then just as you'd add a little filé powder to your gumbo to make it special, we make sure you feel our warm Southern hospitality every time you visit us.
Dr. May on Why You Should Choose Metairie Dental Studio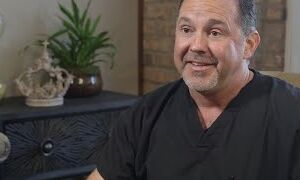 Read Transcript
I did some research, wanted to get some work done. I found out that he was somebody I was really interested in using, the way they did the process on the teeth and stuff.
Knew a lot of the staff. Great staff. Friendly, friendly. And we clicked and started talking about fitness, which is awesome for me. The next thing you know, we're done. We got stuff done.
Basically, we had to get my bite reset. We had a lot of issues with the way my bite was fitting, pain in the jaw. And then we did some buildup, making sure things fit perfect. And then did the top spot on it.
Absolutely, point A to point B. Doesn't skip the steps, tells you like it is, and he handles it exactly what it is. And if you don't get it, he's going to make sure you understand before he moves on, and that's what I appreciate.
You can expect a professional staff, warm environment, and the doctors are very knowledgeable. You can tell they've spent a lot of time making sure everybody knows exactly the procedures that are going on.
We're not a dental practice that focuses on treating as many patients as possible. Our caring team takes the time to get to know you so we can care for you in a way that makes you comfortable.
To ensure your comfort, you'll enjoy:
An office atmosphere that feels caring, not clinical
Patient-friendly technology like lasers to keep your treatments quick and comfortable
Stress-free payment options and a membership plan
The option of receiving dental sedation, if you need it
If you'd like a little lagniappe with your dental care, call Metairie Dental Studio at 504-291-0042. You'll find our office near the Lake Pontchartrain Causeway.
Even Routine Services Are Far From Basic
You'll enjoy special care even with routine services like dental exams. When Dr. Gregg May examines you, he doesn't just look for cavities – he also addresses your overall oral health by performing screenings for:
Oral cancer
Gum disease
TMJ problems
He'll listen to your concerns and may suggest cosmetic dentistry or restorative dentistry procedures to address them.
Rebuild Your Smile and Change Your Life
If you've avoided seeing the dentist because of your dental damage, let Dr. Gregg May create a full-mouth reconstruction plan for you. Transforming damaged smiles is one of his favorite parts of being a dentist, and he performs at least one major makeover a month. Thanks to years of hands-on experience and thousands of hours of continuing education, he uses the latest techniques to bring back your smile's function and appearance.
To experience the best dental care in Metairie, LA, call 504-291-0042. We also serve nearby communities, including Gretna and Kenner.