Get Speedy Assistance for Dental Emergencies in Metairie  
Dental emergencies in Metairie are no cause for panic. If you have a broken tooth, a toothache, or a similar problem, you'll get quick assistance from the Metairie Dental Studio team. We make spots in our schedule for patients of record, and we can often provide same-day care even if you're a new patient.
Dr. May on Dental Emergencies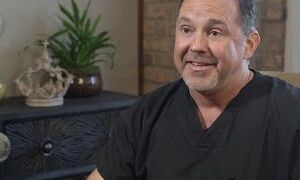 Read Transcript
In my office we often get calls about a dental emergency, and dental emergency's can be multiple things. A dental emergency can be just a tooth that's in bad pain or whatever reason, whether they broke the tooth or they have decay in a tooth that's caused an abscess. It can be also from trauma. I've had patients call me that have fallen down and broken a tooth off, and it's our job to get them in and to address that. In my office we pride ourselves on getting someone in immediately to handle and address their issue as fast as possible so that we can at least get them out of pain or fix whatever thing is hurting them or causing them an issue immediately. In my office you can expect to be seen the same day if you have a dental emergency.
You'll be treated with:
After-hours calls that are routed right to our dentist
Digital X-rays and other technology that enables us to quickly diagnose your problem
A choice of two kinds of sedation
Restorative dental care for repairing every type of dental damage
Comforts like blankets to help you relax
For emergency dental care, call 504-291-0042 now.
Many Emergencies Need Restorative Dental Care
Whether your toothache is caused by a cavity or an infected tooth, our dentist can fix it! In fact, there are few emergency situations we can't handle. Here are some common emergencies and their usual treatment:
Toothache – If your toothache is due to a cavity, we'll fix it with a restoration like a filling or a dental crown. If your tooth is infected, you'll need a root canal to save the tooth and relieve your pain. To reduce pain and swelling until your appointment, you can rinse your mouth with warm water and apply ice.
Knocked-Out Tooth – If you get to us ASAP, we may be able to reinsert it and save the tooth. If you can, gently put the tooth back in its socket. If that fails, keep it in a container of milk or salt water until you get to our office. Don't touch the roots.
Broken Tooth – We typically repair broken teeth with dental crowns. Bring the broken pieces of tooth with you, if possible. Ice will help minimize any pain or swelling.
Dental emergencies in Metairie don't have to be a disaster! Call 504-291-0042 for urgent dental care. We welcome patients from throughout Jefferson Parish.