Dental Implants in Metairie Will Keep Your Jaw Strong After Tooth Loss
Your smile's appearance and oral function suffer when you lose teeth. Your jaw does too. The natural pressure and stimulus of chewing keep your jawbone intact. Without it, your bone shrinks, further impacting your appearance and oral health. Metairie dental implants preserve your chewing action in a way that other teeth replacements don't, so they keep your jaw strong.
Dr. May on Dental Implants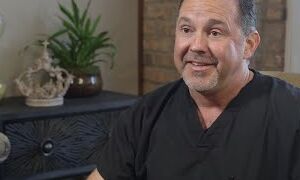 Read Transcript
In my office I meet quite a few people that are of the baby boomer generation, and for whatever reasons, they have lost or broken a lot of their teeth.
In the past the only option in dentistry that we really had to restore their mouth when they lost all of their teeth was a complete denture.
We all remember someone in our family that put their dentures in the cup or put their dentures away to even eat with, because they're not an effective option all the time to chew your food effectively with.
In today's world, technology has changed so much with implant dentistry that we're now doing a procedure where we can actually extract all the teeth in one day and put implants in in the same day, and the patients can leave with an implant-retained, permanent bridgework that we actually move along and replace it with full-porcelain bridgework.
They typically function almost identical to having regular teeth. They don't have a palate, you can still taste your food when you chew. They're more stable, they sound like teeth, they're not made of plastic, they're made of porcelain. They're permanently in, supported by the implants.
There's so many benefits to this procedure, to especially the baby boomer generation that is afraid of losing their teeth and having to wear something that is removable. This is not removable; it's screwed in. It does have to be maintained and still come in for your normal dental visits, but it is a wonderful option that we didn't even have just a few years ago to restore a smile.
It is quite an investment, but it is worth every penny, and I've had the opportunity to be able to complete several over the last year, and it is a wonderful service. And if I can answer any questions about this type of service, please call our office.
In addition to preventing bone loss, implants from Dr. Gregg May:
Keep Replacement Teeth in Place – Implants are embedded in your jaw. So when Dr. May attaches replacement teeth to them, they won't go anywhere. You'll have no more worries about teeth coming loose or even coming out.
Make It Easy to Care for Teeth – Depending on the dental restorations you choose, you'll care for your teeth simply by brushing and flossing as usual. Plus, you won't need adhesive to secure your teeth.
Allow You to Eat All Kinds of Foods – Your bite will be nearly as strong as before. So your diet won't be restricted to easy-to-chew foods. Get whatever you want in your po'boy!
To see if teeth implants are right for you, call our dentist office today at 504-291-0042.
Replace Any Number of Teeth With Implants
It doesn't matter how many teeth you've lost; we can replace them with implants. Fill gaps in your smile with:
Dental Implants With a Crown – It's easy to replace one missing tooth with a dental crown attached to an implant.
Dental Implants With a Bridge – To fill a gap left by several missing teeth, we'll attach a dental bridge to implants.
Dental Implants With Dentures – To replace many teeth, or even all of them, we can attach partial dentures or full dentures to implants. They'll stay securely in place without adhesive. Attaching dentures to implants in your upper jaw leaves your palate exposed, which means you'll be able to more fully taste your food.
Our Skilled Dentist Performs the Entire Dental Implants Procedure
Many dentists restore implants that have been placed by an oral surgeon, but they don't place implants. Thanks to Dr. Gregg May's extensive training and experience, he can perform an entire dental implants procedure in our office, from placement to restoration. This saves you time, hassle, and usually expense.
In fact, you may be able to get a same-day smile with a special procedure called All-on-4®. Dr. May will carefully place four implants in a way that enables them to support a full arch of fixed replacement teeth. You can get All-on-4 implants placed in your upper jaw, your lower jaw, or both.
No matter which dental implants procedure you get, we offer inhaled sedation or an oral sedative to keep you relaxed. If you require deeper sedation, we can provide it with the assistance of an anesthesia specialist.
For more information on Metairie dental implants, call Metairie Dental Studio at 504-291-0042. In addition to Metairie, we welcome patients from nearby communities like Elmwood, Kenner, Gretna, and Harahan.