Simplify Your Schedule With Family Dentistry in Metairie
If you have children, you probably often feel like there just aren't enough hours in the day. We can't actually add time to your schedule, but we can help you make better use of the time you have. Let our team simplify your schedule with family dentistry in Metairie. Every member of your bunch is welcome in our office.
Dr. May on Family Dentistry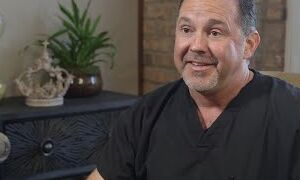 Read Transcript
We are one big family here, and we love our families to be a part of our practice. We're more than just a general practice. We are a family practice; we're here to take care of all of your family members and extended family as well. We want to be your dental office. We want to be the dental office that you know that you can rely on and come to get all of your oral care for all of your family.
Our family-friendly features include:
A staff who feels comfortable with patients of all ages
All the services you're likely to need, from dental cleanings to dental implants
Complimentary beverages and other welcoming touches
A convenient location near several schools, including Grace King High School
A form of sedation that is safe enough for children
Go ahead, make appointments for your entire crew! Call Metairie Dental Studio at 504-291-0042.
From "Happy Visits" to Restorative Care, Our Team Does It All
We'll treat your youngest family members with "happy visits" and rewards from a treasure box. These early visits focus mostly on getting to know our dentist and team, but we'll introduce gentle cleanings as your child becomes comfortable with us. Preventive care is important for children and everyone else, with regular exams and cleanings as well as services like mouthguards to protect teeth during athletic activities.
As they get older, your family members may also need:
Cosmetic Dentistry – To give you a stunning smile
Orthodontics – Including options that use clear plastic aligners instead of metal wires and brackets
Restorative Dentistry – To fix problems from a cavity to missing teeth
Wisdom Teeth Extraction – To keep third molars from causing problems
Sleep Apnea Treatment – So you and the rest of your family can get a good night's rest
Keep Payment Problem-Free
You have many different ways to pay for your family's dental care, even if you don't have insurance. We accept payment from most PPO insurance plans, but you have other options as well:
CareCredit
Discount plans from providers like DenteMax and Q-Dent
Our membership plan that saves you money while eliminating insurance hassles
For family dentistry in Metairie, call 504-291-0042. Our office is located at 3939 N. Causeway Blvd.