Rebuild Your Smile With Full-Mouth Reconstruction in Metairie
If your smile has suffered extensive damage, creating a plan to fix it may seem a little overwhelming. That's where Dr. Gregg May comes in. He will take the time to get to know you so he can create a personalized plan for your Metairie full-mouth reconstruction.
Dr. May on Full Mouth Reconstructions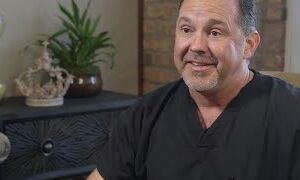 Read Transcript
Oftentimes in the office, I'll see patients that come in with a debilitating situation to where for multiple different reasons and things throughout their life, they've had either missing teeth or several teeth that have been broken down that require some type of restorations to where we can restore how they bite and how they chew and how they function, and also along with it, their overall appearance.
In those cases, we do a full-mouth reconstruction. Typically we accomplish that with a whole bunch of crowns, and they're beautiful. It's not like crowns you've seen in the past that look like white Chiclets. These are beautiful custom-done, lab fabricated by one of the best labs in the country to give us a beautiful, beautiful final look.
It accomplishes several things. It restores function and allows them to chew well again. It can also relieve TMJ signs and symptoms on occasion. But it also gives them an absolutely beautiful smile that they're always proud of. And it is a large investment to do this and to accomplish this. Sometimes patients don't have a choice, and sometimes we work with a patient for more cosmetic reasons to accomplish a full-mouth reconstruction as well. But in the end, I've never had a patient come back and say that that was a bad investment.
During your consultation, he will:
Address all your questions and concerns
Explain all your possible treatment options
Determine the best mix of restorative and/or cosmetic treatments to fix your smile
Create a timeline for treatment that will make the most of your time and budget
Perform all the procedures you need for your smile rehabilitation
The first step in your full-mouth restoration is a consultation with Dr. May. To schedule one, call Metairie Dental Studio at 504-291-0042.
Make Dental Implants Part of Your Full-Mouth Restoration
Dental implants are one of our most versatile tools for smile repair, including a full-mouth rehabilitation. Used with different dental restorations, they can replace anywhere from a single tooth to an entire mouthful of teeth.
Thanks to his advanced training and extensive experience with implants, Dr. May both places and restores them. You won't need to see an outside specialist! They're the best long-term solution because they help avoid the bone loss you'll experience with other teeth replacements.
Explore Your Choices for Full-Mouth Repair
While dental restorations such as crowns will likely be a part of your full-mouth rehabilitation, you may need other services too. You can receive:
Tooth Removal – Dr. May can gently extract teeth, if needed.
Bone and/or Gum Graft – These procedures restore your jaw and/or gums, so you'll have a healthy foundation for implants or other teeth replacements.
Root Canal – Saving damaged teeth is usually preferable to replacing them. A root canal can enable you to keep teeth threatened by infection.
Dental Crowns – Crowns can repair decayed, broken, and cracked teeth. Combined with an implant, a crown can replace a single missing tooth.
Dental Bridges – We can attach a bridge to existing teeth or to implants. Either way, it can replace multiple missing teeth.
Dentures – You can choose traditional dentures or dentures attached to implants for added stability.
Interested in a Metairie full-mouth reconstruction? Call 504-291-0042. Our dentist office is located just across the Lake Pontchartrain Causeway from New Orleans.