Boost Your Confidence With a Smile Makeover in Metairie
Your smile has a big impact on your everyday life. If you don't feel good about your teeth, you may feel compelled to hide them behind your hands or by not smiling. You could change that with a smile makeover in Metairie that could:
Dr. May on Smile Makeovers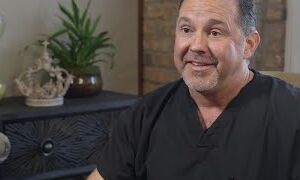 Read Transcript
Throughout my career I have done thousands of smile makeovers. Smile makeovers are anything that we use to restore the teeth cosmetically to give you a beautiful smile, whether it's a single-tooth implant or doing multiple veneers or even doing orthodontics.
Things that we can do to give you a beautiful, perfect smile in today's world are generally simple and easy, and we do them all day, every day. It's a huge life-changing event for people who have had either a single crooked tooth or multiple fractured teeth, or just a smile that they don't like. It can even be as simple as doing a smile makeover and we're just whitening teeth.
Smile makeovers come in just such a gamut of different things that we can accomplish, but in the end, it's an investment that everybody is glad they made.
Improve the appearance of your teeth
Help you look younger
Give you more confidence
Improve your oral health
If those sound like benefits you want, then you should schedule a consultation at Metairie Dental Studio. Call 504-291-0042 to make your appointment with our cosmetic dentist, Dr. Gregg A. May.
Make the Changes You Want to See
Smile makeovers have been a big part of our cosmetic dentistry for a long time. In fact, you might even say they are Dr. May's forte. The good news is that no matter what changes you want to make, we have services to help:
Dental Veneers – Veneers are a durable way to conceal a range of issues, from broken and cracked teeth to crooked and stained teeth to teeth with gaps between them.
Teeth Whitening – To remove the deepest stains from your smile, you need the power of professional whitening.
Tooth Bonding – Bonding is a quicker way to fix many of the same issues as veneers.
Orthodontics – If you have crooked teeth, gaps in your smile, or bite issues, clear aligners and Six Month Smiles® are both great ways to get your teeth in line.
Gum Recession Treatment – If you've experienced gum disease or other gum health issues, your gums may have pulled away from your teeth. This treatment can change your gumline.
By combining cosmetic services, and possibly some restorative options, you could have the smile of your dreams. If you have anxiety about any of these procedures, keep in mind that we offer two kinds of sedation so you can remain pain-free during your visits with us.
Invest in Your Smile & Yourself
Millions of people choose to make changes to their smiles every year. This is an investment that can pay off for the rest of your life, so we'll cover all your options in detail before you make your decision.
Don't waste another minute. Schedule a consultation for a smile makeover in Metairie. Call 504-291-0042 now to plan your visit to Metairie Dental Studio.