Feel Free to Smile With Gum Recession Treatment in Metairie
When you have gum disease or other gum health issues, then you may have receding gums. With our gum recession treatment in Metairie, you could:
Dr. May on Gum Recession Treatment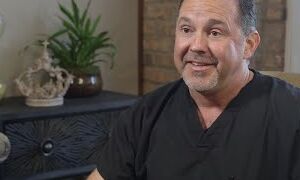 Read Transcript
I've seen patients through the years that come into my practice and for one reason or another, they have a tooth or several teeth with extensive gum recession on. There's many things that can cause gum recession, whether it be orthodontic treatment that wasn't done correctly, or whether it be some type of gum disease or something like that. But we can have gum recession around teeth. Losing that gum tissue is not a healthy situation around the teeth; it can lead to tooth loss. There are options for gum recession treatment. We do several in my practice that are not too far of advanced cases. If it's pretty extensive, I do refer to a periodontist that can do a more extensive surgical procedure like a gum graft or something of that nature.
Stop your problems from getting worse
Restore your gumline
Improve your oral health
Feel better about sharing your smile
You can repair your smile by fixing your gumline at Metairie Dental Studio. Call 504-291-0042 to schedule your appointment and learn about your cosmetic options. Be sure to ask about dental sedation to make sure your treatment is completely relaxed.
Re-create Your Healthy Gumline
Receding gums can create added sensitivity and may look unhealthy. Fortunately, we have three ways to address this issue:
Chao Pinhole® Surgical Technique – This procedure is minimally invasive. Without any cutting or stitches, we can manipulate the position of your healthy gum tissue to re-create your original gumline.
Gum Grafts – Using gum tissue from another part of your mouth, we can rebuild your gumline.
Allograft – This is a type of gum graft that uses donor tissue to restore your gumline.
If gum disease has caused your receding gums, we'll work with you to manage that before we complete your treatment for gum recession. You also may need a bone graft to help restore the shape of your mouth. In any case, we can perform your procedure painlessly with our sedation options.
Take Care of Your Gums to Care for Your Smile
Receding gums are often a symptom of advanced periodontal disease, but that's not the only reason you may have this issue. Brushing your teeth too aggressively can damage your gums as well as your tooth enamel. The position of your teeth and teeth grinding can affect your gum health as well.
No matter the reason, our team is more than prepared to get your smile back in shape. Let us show you what our gum recession treatment in Metairie could do for you. Call Metairie Dental Studio at 504-291-0042 to remake your smile.