Realign Your Smile With Orthodontics in Metairie
If you know that your smile could look nicer, then you should ask about Metairie orthodontics. We offer excellent treatment options that can:
Dr. May on Orthodontics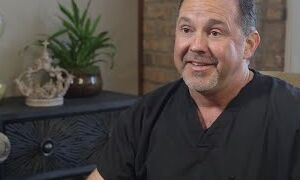 Read Transcript
In my practice through the years, I find a variety of people come in and they have crooked teeth of some type, whether it be from having orthodontics when they were younger and their teeth have relapsed, all the way from people who couldn't necessarily afford orthodontic treatment when they were young, and now they're adults and they still have the crooked teeth, but they have the means to do it now.
We do offer orthodontic services in my practice. We pretty much have the gamut of choices, whichever a patient is most comfortable with, whether it be utilizing some type of tray aligner system, like Invisalign or ClearCorrect, or I also do traditional orthodontics with clear ceramic brackets and even a Six Month Smiles product as well. And those are great, great ways to do adult orthodontics. But it's wonderful, it's effective, and it's really fast.
Straighten your teeth
Close gaps in your smile
Improve your bite
Boost your oral health
Give you greater confidence in your smile
Stop worrying about your crooked teeth, and do something about them. Call 504-291-0042 now to schedule a consultation at Metairie Dental Studio. You may even be able to get a straight smile without braces!
Move Your Teeth Where You Want Them
Today, you can straighten your smile in as few as six months, and you may not need teeth brackets or wires to make your changes. At our practice, you have a few more modern options for orthodontic treatment:
Invisalign – Invisalign uses a series of computer-designed, custom-fitting clear aligners to gently push your teeth where they should go.
ClearCorrect – Similar to Invisalign, this system also uses transparent aligners to move teeth.
Six Month Smiles® – This system uses brackets and wires like traditional braces, but it focuses on specific teeth to get your results in a fraction of the time. Also, the brackets and wires blend in with your teeth for a more discreet process.
If you are unsure whether orthodontic treatment is right for you, we may be able to help you decide. Using our Digital Smile Design, we can give you a before-and-after comparison to consider before you decide which option is right for you.
Take Control of Your Teeth With Orthodontic Treatment
Our orthodontic options can help you fix:
Crowded teeth
Crooked teeth
Gaps between teeth
Various bite issues
Whether you are a teen or an adult, you can create the smile of your dreams. Our services can give you the beautiful, straight teeth you desire. Before we can begin your orthodontics in Metairie, you need to set up a consultation with us. Call 504-291-0042 to request your appointment at Metairie Dental Studio.