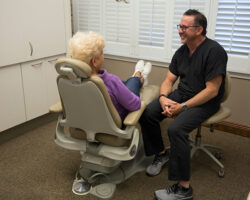 The entire team at Metairie Dental Studio loves seeing our patients with healthy, confident smiles. We're proud of our role in keeping your smiles in top shape, which includes educating you about good oral hygiene. We share care tips with you during your dental exams and other times we see you at either of our two locations in Louisiana.
Between visits to our offices, we'll provide advice in this blog. Be sure to check this page regularly so you won't miss our dental tips and takes on the latest trends.
We hope you'll find our blog useful, and we welcome any feedback you'd like to give us. If you have comments or suggestions for us, or if you just need to schedule your next appointment, call 504-291-0042 to reach us in Metairie, LA. We're at 3939 N. Causeway Blvd., not far from Lafreniere Park.
Southern Hospitality Is What Sets Us Apart
We're kicking off our blog by highlighting a few of the features our patients enjoy most about Metairie Dental Studio:
Our smile reconstruction skills. We both place and restore dental implants, so you can get your entire procedure in one convenient place. We can combine cosmetic and/or restorative dental services to repair even the most damaged smiles. We'll even show you what your new smile will look like using wax-ups and/or digital technology.
Our comprehensive care. Chances are, you'll never need a referral to an outside specialist. That's because Dr. May offers everything from dental exams to dentures. You can even get treatment for sleep apnea and TMJ disorders.
Our no-stress payment options. We accept most insurance as well as financing through third-party providers like CareCredit and Q-Dent. We also offer a membership plan that helps simplify paying for your care by removing many of the hassles associated with insurance.
Call us in Metairie, LA at 504-291-0042 today to make your next appointment!