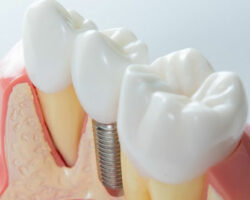 Whether you use dental implants to replace one tooth, many teeth, or all of your teeth, implant dentistry offers many advantages over more traditional teeth replacements.
Our dentist embeds implants in your jaw. That means they aren't going anywhere, and neither are the dental restorations we attach to them. In contrast, dentures sit on top of your gums and are held in place largely by suction. So they can come loose while you're eating or talking. Dentures also loosen over time as your jawbone shrinks, so you'll need periodic adjustments to ensure a good fit. That won't happen with implants.
Call Metairie Dental Studio to schedule a consultation to find out if you are a good candidate for dental implants. Unlike some dental practices, we both place and restore implants. So you can get your entire procedure all in one place.
Call 504-291-0042 to reach our office in Metairie, LA.